If  relaxing under "picturesque beauty and serene environment" is what you are after then, a visit to Northeast Indian hill stations is a must. Now, there are several hill stations located in the Northeastern region of the country that are truly worth visiting. However, there exist a select few hill stations in this region that must be visited for its magnificent beauty and tranquil atmosphere. So, here is presenting a list of  "6  visit worthy Northeast Indian Hill Stations".
Read More: HEARD OF THESE SPOOKY HILL STATIONS IN INDIA?
a. Shillong- Meghalaya:
 Shillong Map
"Scotland of the East" is how a hill station named Shillong located in the Northeast Indian state of  Meghalaya is commonly referred to as.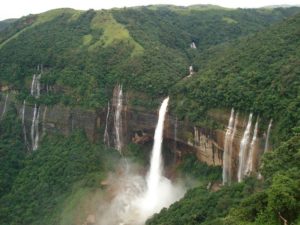 Elevated at an altitude of 6,449 feet above sea level, this scenic hill station is a renowned for being a tourist hub. Furthermore, it is known for its magnificent evergreen hills and is surrounded by a serene atmosphere. In addition, it is also popular for a number of beautiful waterfalls, thereby making it a photographer's paradise.
b. Gangtok- Sikkim: 
 Gangtok Map
"Hill cut" is apparently the literal translation of Gangtok, a picturesque hill station situated in the Northeast Indian state of Sikkim.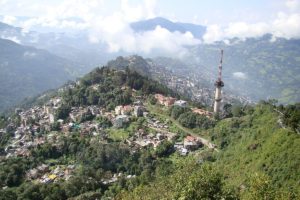 This scenic hill station provides for the magnificent view of the Kunchenjunga range. Furthermore, apart from its scenic beauty Gangtok is also renowned for its round the year "temperate" climate, and is one of the major reasons why this hill station attracts a lot of tourists annually. Additionally, this hill station is also known for being "culturally rich" and serves as the hub of  "Tibetan Buddhism", which includes the presence of a number of monasteries and centers for Tibetology i.e. the comprehensive study of Tibet.
c. Pelling- Sikkim:
 Pelling Map
Elevated high up at an altitude of 2,150 meters above sea level, is a beautiful hill station called Pelling located in the Northeast Indian state of Sikkim.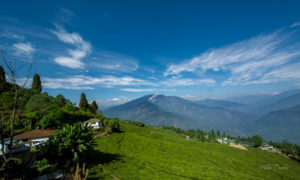 Considered to be "one of the most visited" hill station in the state, it renowned for its picturesque and pristine surroundings. It also provides for the majestic view of the Kanchenjunga range. Furthermore, Pelling (apart from its natural beauty) is also renowned for a number of beautiful monasteries, rock gardens, waterfalls, as well as an holy rock known as "Rani Dhunga". In addition, this quaint hill station also possess a "helipad" which may be used on request to connect to Gangtok.
d. Tawang- Arunachal Pradesh:
 Tawang Map
"3,048 meters above sea level" is the altitude at which the picturesque hill station known as Tawang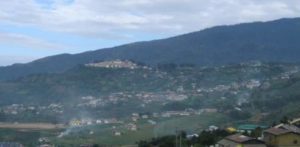 located in the Northeast Indian state of Arunachal Pradesh.  It is mainly renowned for its picturesque beauty that includes beautiful fields and mountain ridges. Furthermore, culturally speaking this hill station is also known for a number beautiful monasteries and that includes the famous Tawang monastery.
e. Aizawl- Mizoram:
 Aizawl Map
"Mizo" is an ethnic community that forms the majority of the population residing in the extremely scenic hill station known as Aizawl located in the Northeast Indian state of Mizoram.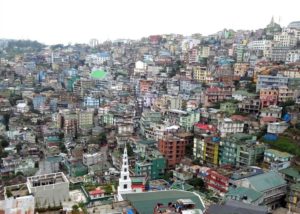 Renowned for its spectacular picturesque beauty, this hill station (also the capital of the state) provides for a beautiful view of the overlying Tuirial and Tlawng rivers, which serves to add more to its natural beauty.
f. Haflong- Assam:
 Haflong Map
"Anthill" what the word Haflong, a scenic Northeast Indian hill station located in Assam literally means when translated to English from the Dimasa language.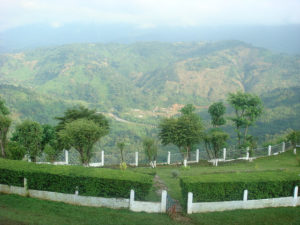 Elevated at an altitude of 966.216 meters above sea level, this hill station known as "Switzerland of India", is renowned for its picturesque and breathtaking views of valleys. It is renowned for popular tourist spots such as the Haflong hill and  Haflong lake.
Also Read: WHAT MAKES THE DARJEELING HIMALAYAN RAILWAY SO UNIQUE?
Image Credit: Pixabay
"