Cherrapunji, known as the 'wettest place on earth' is a beautiful town in north-east India. It is located in the state of Meghalaya within the East Khasi Hills district. If you intend to plan a trip to this beautiful North East Indian hill station, here is presenting facts that you need to know about this small town in Meghalaya.
Read More: WHAT MAKES THE DARJEELING HIMALAYAN RAILWAY SO UNIQUE?
Cherrapunji map
a. The Basic History Of Cherrapunji:
'Khasi people' are essentially the original inhabitants of Cherrapunji. Historically speaking, the origin of this tribal community can be traced as far back to the 16th-18th centuries. Apparently, they were ruled by their 'Syiems' (rajas or chiefs). It was eventually in 1883 that this hill station came under rule of British, which resulted in the last of the Syiems, Tirot Sing surrendering.
b. The Origin of the word Cherrapunji:
Initially, town was referred to as  'Churra' by the British. However, over the years this name slowly evolved into 'Cherrapunji', which when translated literally means 'land of oranges'.
c. Cherrapunji Weather, and the reason 'why' it is considered to be the wettest region    on earth:
'Subtropical Highland Climate' is a technical term which best defines the Cherrapunji Weather.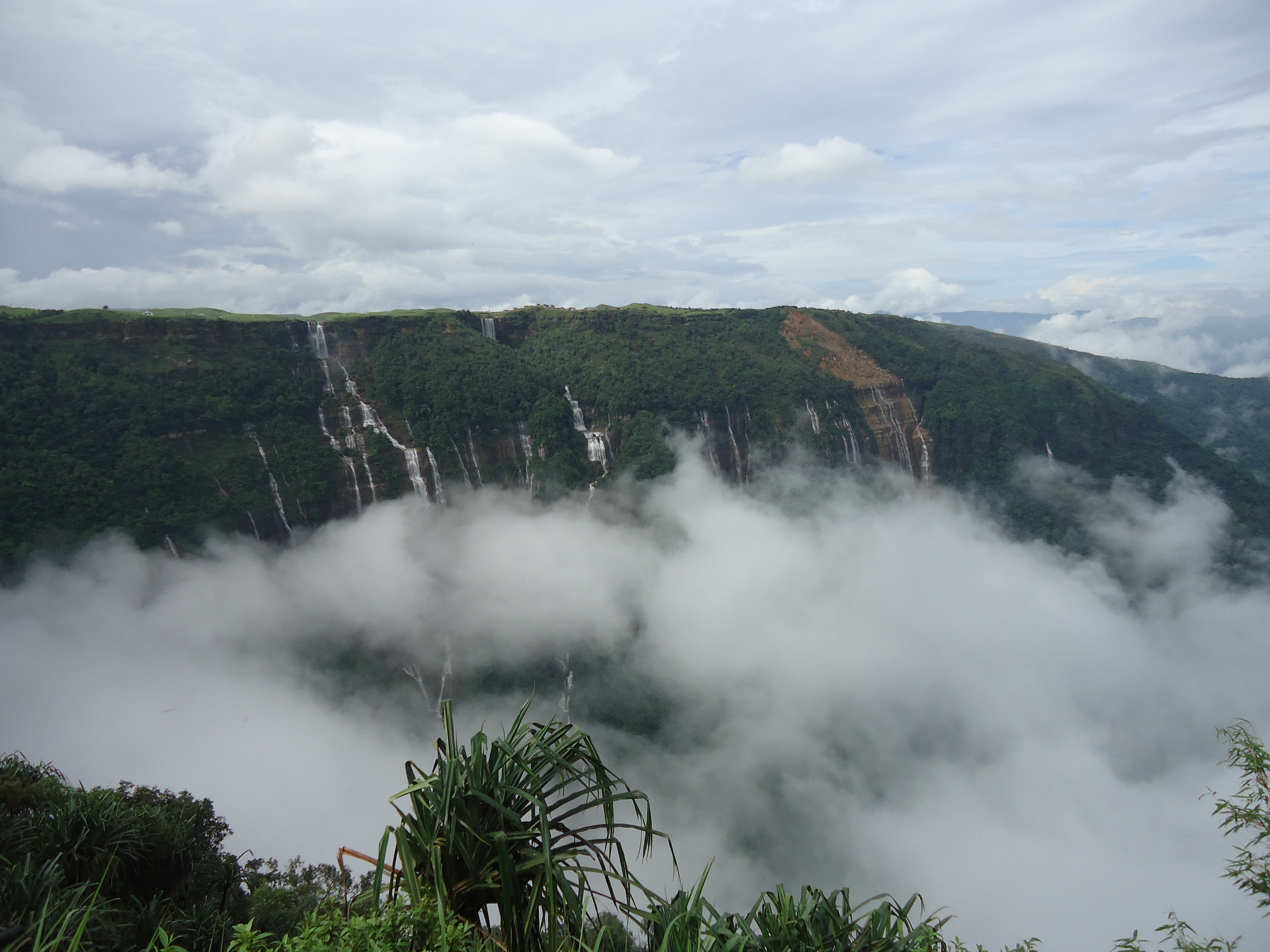 According to statistics, this hill station receives an average rainfall of about 11,777 millimeters (463.7 in). It is therefore the heavy rainfall received by this hill station annually, which makes it the 'wettest region on earth'.  And the reason for this heavy rainfall is simply the fact that, the monsoon clouds from the Bay Of Bengal dump all the moisture over the steep Khasi Hills before going further. Furthermore, as of today this hill station still holds the record 'he most rainfall in a calendar month and in a year'.
d. Cherrapunji and its connection to Mawsynram:
Mawsynram is a small village located in close proximity to Cherrapunji, and which has supposedly surpassed it in terms of average annual rainfall. In fact, the 'Guinness Book of Records', has clearly mentioned that this village received 26,000 millimetres (1,000 in) of rainfall in the year 1985, which was a record.
e. Cherrapunji Sightseeing/Places To Visit:
There are number of places found at this hill station that are worth included in what can be termed as the 'Cherrapunji Sightseeing List'. They are as follows:
 The Living Root Bridge: Is basically a bridge formed from the roots of living trees. Located at a distance of 12.8 km from this hill station, it is a worth visit.
Dainthlen Waterfalls: Is a legendary waterfall which provides for spectacular view of its surroundings. Situated at a distance of 10.9 km from this hill station, it is certainly a site that must not be missed at any cost.
Seven Sister Waterfalls: Is yet another waterfall which provides for magnificent views of its surrounding. Located at a distance of 3.6 km, this site is a must visit especially for those affected by 'wanderlust'.
 Rama Krishna Mission and Museum: Is a museum which displays the rich tribal culture and traditions of this region. It includes artefacts and handicraft products made by the locals. Situated at a distance of  3.6 km from this hill station, it forms a vital component of 'Cherrapunji Tourism'.
 f.   Accommodation – Hotels, Resorts and  Home Stays in and around Cherrapunji:
There are several options available with regards to accommodations in and around Cherrapunji. Click on the link      here to check out the places to stay near Cherrapunji, Meghalaya on Google Maps.   
Also Read: TOP 10 POPULAR HILL STATIONS DURING SUMMER IN INDIA
Image Credits: Wikimedia Commons and Wikimedia Commons