Tourism is considered to be one among a few revenue generating industries in India. A major reason for this being, the availability of several picturesque hill stations right throughout the great. Now, there are many that are popular while, a few still remain unexplored and hence not well known. One such hill station situated on the Eastern Ghats that has not yet gained a reputation is a quaint hill station in Andhra Pradesh known as Araku Valley. So, here is presenting a few facts to explain "why" this extremely scenic "unexplored" Indian hill station must be explored.
Read More: THESE INDIAN HILL STATIONS ARE IDEAL FOR REJUVENATION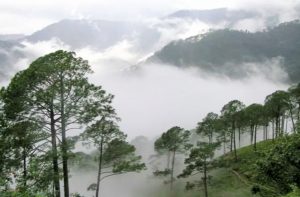 a. The "beautiful" landscape of Araku Valley:
Araku Valley Map
"Evergreen" would be the right word to describe the landscape that surrounds Araku Valley. Located at an altitude of 1300 meters above sea level, it comprises of beautiful orchards, waterfalls, gardens, and lush green forests. In addition, this hill station consists of popular tourist spots such as the Borra Caves, Sangda Waterfalls, Katiki falls, Padmapuram Botanical Park, Araku Tribal Museum, as well as  Tyda Village and Park.
b. The splendid "Coffee Plantations" in Araku Valley: 
"Coffee production" is said to form a major part of the economy of Araku Valley.  As a result of which, a number of beautiful plantations can be seen at this quaint hill station.Historically speaking, it was in 1898 during the British Raj that the coffee production was first introduced in the eastern ghats. It was however only in the early 19th century that coffee plantations first began being developed in this quaint hill stations. Furthermore, it was in post-independent India that the "Andhra Pradesh Forest Department" actively began developing more such plantations over here. And so, these plantations not only provides this magnificent hill station with "coffee" but, also adds a lot of charm to its overall picturesque beauty.
c. The "Pleasant" climate in Araku Valley:
"Moderate" is the word that best describes the climate possessed by Araku Valley. The temperatures witnessed at this scenic hill station ranges from an average maximum of 35 degree Celsius and minimum of 25 degree Celsius. With regards to monsoons, the rainfall received over here is "moderate" with heavy showers received mainly during the month of August. It is thus this "pleasant" weather observed at this hill station throughout the year which makes it a worth visit destination.
d.  The "Balloon Festival" organized for the first time in the Araku Valley:
It was in November 2017 that for the first time a "Balloon Festival" was organized in Araku Valley by the Andhra Pradesh State Tourism in collaboration with a company known as E-Factors Adventure Private Ltd and SkyWaltz. Furthermore, this festival has been initiated mainly promote tourism in this picturesque hill station. This festival having been organized for about a week from 14th  November to about 19th November 2017, is all set to be back in 2018 as well.
With the popularity of Araku Valley growing each year, here is hoping that this extremely enchanting South Indian hill station continues to attract a large number of tourists from within country, and eventually from around the globe as well.
Also Read: WHICH ARE THE MOST VISITED INDIAN HILL STATIONS OF 2017?
Image Credits: Wikipedia and Wikimedia Commons