"Ootacamund or Ooty" located in the state of Tamil Nadu is one of the most beautiful hill stations in South India. Also referred to as Udagamandalam or Udhagai, this small town is situated in the Nilgiri Hills at a distance of 86 km from Coimbatore and 128 km from Mysore. Now, there exists many reasons as to why this scenic hill station called Ooty is one among a few in India that is considered to be the "most visited".  They are as follows:
Read More: 5 REASONS FOR VISITING OOTY
 Ooty Map
a. The "Beautiful" Climatic Conditions available in Ooty: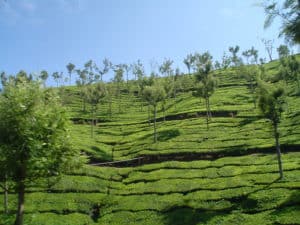 "Subtropical highland" is how the weather of Ooty has been defined according to the Köppen climate classification system. This hill station basically experiences what can best termed as "pleasant" climate throughout the year. The average maximum to minimum temperatures ranging from about 19.68 to 9.33 Celsius respectively annually. In fact, at times the mercury has even dropped to a minimum of about -2 degree Celsius. Furthermore, in terms of rains this beautiful hill station basically receives an average rainfall of approximately 125 cm annually. In addition, windy conditions are perpetually present in this town during all twelve months.
b. The "Magnificent" gardens, a deer park, lakes, a river and a dam available in Ooty:
"A beautiful green environment" is what Ooty is surrounded by. For example, a  site such as the Government Rose Garden located at an altitude of 2200 meters above sea level is situated at this hill station, and is extremely popular with tourists. It is renowned for being the "largest rose garden in the country" consisting of about 20,000 types of rose flowers. Some of these flowers include hybrid tea roses, Floribunda, Ramblers, and Yakimour. The "Ooty Botanical Gardens" which was constructed at this scenic hill station in 1847 is also famous for its "evergreen" surroundings comprising of "exotic" species of plants, shrubs, ferns, trees as well as herbal and bonsai plants. Additionally, a popular "Deer Park" consisting of a variety of deer species is situated in this town, and is located in the vicinity where the renowned Ooty Lake is situated.
The "Ooty Lake" covering an area of 65 acres is extremely popular at this hill station. In close proximity to this lake lies a "Boat House" which provides for boating facilities,  thereby attracting a large number tourists annually. Apparently, this lake was built by the first govenor of this town named John Sullivan in the year 1824. The River Pykara found at a distance of 19 km from Ooty is also a spot that is popular with tourists. Furthermore, this river also flows through a 55 meter and 61 meter fall respectively which is referred to as the Pykara Falls. It is at this spot that boating services are provided, which makes it a popular tourist attraction. Located at a distance of 10 km from the main bus stand of this hill station is a dam known as "Kamaraj Sagar," which serves as an ideal tourist and picnic spot. It is also renowned for being a destination in which a few Indian movies have been shot, and where studying of "nature and environment" can be undertaken peacefully.
c. The beauty of the "Doddabetta Peak", Tiger Reserve" and "Reserve Forests" found in Ooty:
"Magnificent view of the surrounding landscape" is what the Doddabetta Peak located at about 10 km from Ooty and elevated at an altitude of 2,623 meters provides for. It is an extremely popular tourist destination, and is supposedly the fourth highest peak in the whole of South India. Furthermore, the Mudumalai National Park and Tiger Reserve  located in this hill station is an extremely popular tourist attraction. Spread over five mountain ranges it consists of endangered species such as the Indian elephants, gaur, chittal etc. It also is home to the Bengal Tigers, Indian Leopards, and comprises of about 266 bird species. Additionally, this picturesque hill station also possesses beautiful reserve forests filled with pine trees, which also serve as attract tourists in this area.
d. A few "Historical structures" and a "Tribal Museum" found in Ooty:
Apart from its scenic beauty Ooty is also known for a number of "historical structures". For example, this first ever bungalow to be constructed in this hill station called "Store House" is a popular tourist spot. It was built  by John Sullivan, the first governor of this town and was referred to as "Kal Bangala" by the locals, which when translated means "stone bungalow". In addition, the St Stephen Church considered to be one of the oldest churches in the Nilgiri district is also another renowned site situated in this hill station that attracts tourists. It was on 23rd April 1829 that the then governor of Madras (now Chennai) Stephen Rumbold Lushington laid the foundation for this church.
A tribal museum (an integral part of the Tribal Research Center)  located at a distance of 10 km from this quaint town in Tamil Nadu is yet another tourist spot that attracts the attention of tourists. It essentially comprises of rare photographs and artefacts belonging to tribal groups from Tamil Nadu and the Andaman and Nicobar Islands.
e. The "Nilgiri Mountain Railway" located in Ooty:
Established in the year 1908 by the British, the Nilgiri Mountain Railway is a key component of the rich cultural heritage of Ooty. Having been accorded with the sobriquet "Mountain Railways of India", it was included in 2005 in the UNESCO'S list of "World Heritage Sites". It basically provided for a fleet of train services that mainly operated on steam. However, it has been few years now that diesel has replaced steam locomotives  along the Coonoor to Ooty railway route. Recently though, local tourists have demanded that the traditional steam operated trains be brought back to service.
So, it is mainly the combination of "lovely" weather, "exquisite" scenic beauty, and "fascinating" tourist sites that eventually makes Ooty one among a few rare hill stations in India that is visited the most by tourists.
Also Read: WHY IS OOTY CALLED THE "QUEEN OF HILL STATIONS" IN INDIA?
Image Credit:Wikimedia Commons