The state of Uttarakhand also known as "Devbhumi" came into existence as the 27th state of India on 9th November 2000. Now, this northern Indian state has over the years gained popularity among tourists because of its picturesque hill stations. Furthermore, among the many available in this state, Auli situated in the Chamoli district is supposed to be extremely popular especially as a "skiing" destination in India. In addition, there exist many other reasons which makes this hill station a truly spectacular tourist destination So, here is presenting those facts which will help illuminate "why" you must visit Auli?
Read More: EVERYTHING YOU NEED TO KNOW ABOUT DALHOUSIE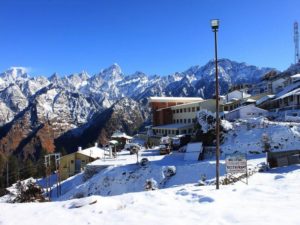 a. The "pleasant" climate which surrounds Auli:
Auli Map
"Pleasant" is the adjective which best describes the overall climate that Auli experiences throughout the year. During the summer which begins March and and ends in June is ideal for activities such as trekking. Scanty rainfall is received during the monsoon which begins in July and ends in October, and is considered to be season that is not ideally suited for exploration. It is the winter season though which begins in November and ends in February  when the environment varies from "cool to cold" that is the best season to visit this hill station. It is also during winter due to drop in temperatures that skiing is made possible.
b. The "evergreen" landscape that encapsulates Auli:
Apart from the "temperate" climate, Auli has also been truly been blessed with a magnificent landscape which is surrounded by coniferous and oak forests. It also includes a beautiful lake known as Chattrakund which comprises of sweet water and attracts a large number of tourists every year. A spot known as Joshimath is also located at this quaint hill station and is ideal for activities such as trekking, hiking, and mountain climbing. In addition, a national park known "Nanda Devi" is situated in close proximity to this hill station is renowned for its varied and exotic flora and fauna.
c. The ideal "slopes" available for skiing at Auli:
"Slopes" for both professional and amateur skiers are made available in Auli, mainly during the winter season. In fact, this hill station is considered to be one of the most popular "skiing destination" in the country, with winter sports competition being organized annually in partnership by "The Garhwal Mandal Vikas Nigam Limited (GMVNL)" and the Uttarakhand Tourism Department. The intention behind such contests being the promotion of winter sports in India.
It is therefore, the merging of splendid climate and beautiful landscape which ensures that Auli, one among the few Indian Hill Stations truly worth visiting.
Also Read: 9 EXTREMELY EXOTIC INDIAN HILL STATIONS
Image Credits: Wikimedia Commons and Pixabay