The north of India comprises of a number of picturesque hill stations.  Now, many of them are located in a state known as Himachal Pradesh. One such hill station in Himachal truly worth visiting for its scenic beauty is called Kufri. Obtained from the word "Kufr" which means "lake", this hill station discovered in 1819 by the British is located at distance of  20 km from Shimla. And so, here is presenting facts about Kufri, which will illustrate the reasons "why" it is such a "Mesmerizing Indian Hill Station".
Read More: 5 REASONS FOR VISITING SHIMLA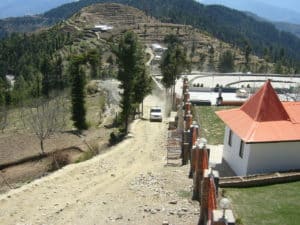 Kufri Map
a. The beautiful climatic conditions which surrounds this "Mesmerizing Indian Hill Station" called Kufri:
"Temperate" is the ideal word which can be used to describe the climate of Kufri, a "Mesmerizing Indian Hill Station" located in Himachal Pradesh. The average maximum temperature being about 27 degree Celsius, and the minimum temperature being about 13 degree Celsius.  Furthermore, the weather is "pleasant" all throughout the year with summer months being March to May,monsoon season starting from June and ending in September, and winter beginning from December and ending in February.
b. The "trekking tracks" available in Kufri considered to be a "Mesmerizing Indian Hill Station":
Kufri possesses a wonderful landscape, and hence is such a "Mesmerizing Indian Hill S tation". Now, the landscape available at this picturesque hill station also comprises of an ideal trekking track. Furthermore, it essentially can be used to trek to places such as Manali, Shimla, Rewalsar, and Fagu. More importantly, Kufri is extremely popular among trekkers, and used for trekking excursions frequently.
 c.  The "exotic" wildlife found in Kufri, a "Mesmerizing Indian Hill Station":
This quaint hill station located in Himachal Pradesh is renowned for an exotic "wildlife". In fact, a famous sanctuary known as the "Himalayan Nature Park"  located at this hill station possesses a few animal species mainly found in the Himalayan region such as snow leopards and brown bears. Other animals found in this park include Musk Deer, Bharal, Black Bear, Tibetan Wolf, Leopard Cat, Sambhar, Ghoral, Barking Deer, Monal, White Crested Kaleej and Cheer pheasant.
d. The "delicious" cuisine available in Kufri, a "Mesmerizing Indian Hill Station" found in Himachal Pradesh:
"Yummy" would be the best way to describe the cuisine available in Kufri, an absolutely "Mesmerizing Indian Hill Station" found in Himachal Pradesh. So, be it Indian, Chinese, Continental, and Italian you find it all over here. With regards to Indian cuisine delicacies such as parathas, pakoras, and chaat are extremely popular. A coffee shop situated in close proximity to a tourist park named Indira at this hill station is also frequently visited by tourists.
So, it is essentially a combination of factors such as great landscape, splendid climate, exotic wildlife, and mouthwatering cuisine which makes Kufri, such a mesmerizing hill station in India.
Also Read: 5 UNKNOWN HILL STATIONS IN HIMACHAL PRADESH
Image Credits: Wikimedia Commons and Pixabay